Reflections on the past, looking to the future – a Q&A with founding director Greg Marchildon
June 29, 2021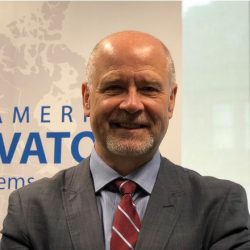 It is with mixed emotions in NAO's story as we say farewell to our Founding Director Greg Marchildon. The NAO is Greg's brainchild, and it is thanks to his tireless leadership that the Observatory enjoys its current prominence among health policy researchers the world over. We wanted to take some time to thank Greg for everything he has accomplished by asking him a few questions about his time at the NAO, and what he sees in our future.
The NAO is now a large and bustling research group. When you first began planning the observatory, how did you envision it developing?
I began planning a Canadian-style Observatory in 2014, shortly after the demise of the Health Council of Canada (HCC). I thought that the country needed a civil society counterpart to do at least some of the comparative health policy and assessment work being done by HCC. I also wanted it to be a non-profit research centre with a major academic base, similar in some respects to the European Observatory on Health Systems and Policies, an organization I had worked with on various projects since January 2003.
However, as I thought about it more, I decided that it would be a more solid initiative if it included two other federations, the United States and Mexico in which subnational governments play a very important role in the administration, the regulation and (in some areas) the delivery of health services. The opportunity for comparison at the subnational level was largely unexploited and I felt that much would be gained by comparing provinces and states not only within their respective countries but also, where appropriate, across countries.
The next step was to find an academic director in each country and I was fortunate enough to entice Professor Tom Rice, a health economist at UCLA, and Miguel González Block at Anahuac University and Mexico's National Institute of Public Health to represent their respective countries. Like me, Tom was involved in the European Observatory's Health Systems and Policy Monitor and Miguel had been the director of the Alliance for Health Policies and Systems Research at the World Health Organization. We also enticed Amélie Quesnel-Vallée at McGill University to serve as an Associate Director representing Québec. 
In February 2017, we launched the NAO at the University of Toronto and within months we were working with governments and health organizations on rapid reviews as well as hosting sessions in comparative health policy. Our first year involved a website, new research partnerships, grant applications, and several inaugural rapid reviews – all of which was made possible by the tireless efforts of Allie Peckham, Alex Titeu, and incredible graduate student RAs! They paved the way for our team to grow and now thrives under the leadership of Sara Allin (who I'm thrilled will be taking on the role of NAO Director in July) and Monika Roerig, our extraordinary research coordinator who is indispensable to the team and just started her third year with us!
We have never looked back since.
Has there been anything surprising or unanticipated about NAO's development to date?
I was surprised at the extent to which we have been called upon by governments, international organizations, and health system organizations to examine particular policies and problems from a comparative perspective. It seems to me that this is less a matter of capacity in the governments and organizations requesting the work, than the fact that their own research and policy personnel are so preoccupied with day-to-day issues, including crisis management. They simply do not have the time to do basic comparative health systems research despite the importance of having this kind of information in order to make better, evidence-informed, decisions.
Looking at our many achievements, what are you most proud of about NAO's work so far?
I would like to mention two things. First, I am most proud of our ability to call upon international networks of researchers and experts to help address some of the most challenging policy problems facing decision makers today. We are not private consultants able to offer major financial incentives for this work to be done. Instead, these researchers are responding positively to our requests due to their great interest in the policy questions we ask and the opportunity to work and publish with some of the leading health policy scholars in the world.
Second, I am most proud of our independent research agenda in which we produce major studies that will become essential building blocks in health policy research for years to come. This includes our health system in transition studies for Canada, Mexico, and the United States and, within Canada, our provincial and territorial health system profiles that we are doing in conjunction with the University of Toronto Press.
Where would you like to see NAO heading in the future? Are there certain aspects of the health system field that NAO has yet to study?
I would like to see the NAO become the focus for work on federal health systems throughout the world. While the European Observatory will likely continue to focus at the national level, we have developed a real expertise in understanding and comparing health systems at the subnational level. It would be great to initiate health system profiles of federal countries outside North America and Europe (e.g., Argentina, Australia, Brazil, India, Nepal, Pakistan, Russia, etc.).
The NAO could offer much in comparing federal health transfers and their impact across federations as well as measuring the degree of constitutional, fiscal, and administrative health system decentralization in a number of federations. I would also like to see the NAO lead an initiative to produce a concise comparative health system and population health profile of every country in the Americas that would be easily accessible to decision makers everywhere on this continent.
In what ways do you see NAO leading health system policy research in the coming post-pandemic reality?
Although numerous reform efforts tried to encourage greater use of virtual care, it took the pandemic to make virtual care a prominent part of our health system—a trend we can see in many other countries beyond Canada. Some of the policy changes that facilitated this shift were only temporary in nature and it is unknown whether they will be entrenched or retracted following the pandemic. The NAO could conduct a major comparative study on the extent to which governments (national and subnational) have changed their policy practices in a permanent way to facilitate virtual care and why they have done so, and if not, why not.
I plan to conduct some international work involving federalism as well as developing policy and administrative capacity, especially in regions which you might describe as conflict zones. No doubt, this will involve comparative health systems but will go beyond this domain. I am looking forward to this next stage in my life.